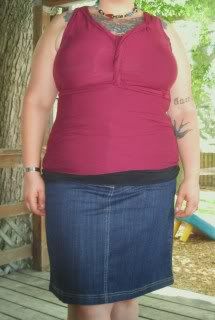 Part of what made me think I could just wing the Boden shirt was making this tank top. I had a vision in my head and some extra jersey laying around and decided just to have a go at it. The front and back were cut identical and I went back and altered the neckline of the front. The collar is just a strip of leftover fabric I twisted will sewing on and tacked in place along the neck and at the bottom of the bust. The straps tie in back.
I had difficulty getting a good picture of this shirt. The early morning sun and my camera were not getting along. I'm pretty sure the shirt doesn't appear as shiny in person. I thought about giving it up and trying later in the day, but I knew I'd get something on it before then and a big stain on it wouldn't do. The color is truest in the close up picture. The necklace is by Ali of
Kissum Up
. I'm not sure she ever stocks there anymore, but she does occasionally stop in at
Venus Vanguard.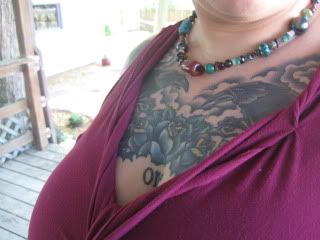 What was worse was the back shot. I knew it felt a little snug, but when I saw the back side I promptly took it off until I could figure out a proper undergarment to wear to get rid of all those lumps. Why must bras dig into back fat?