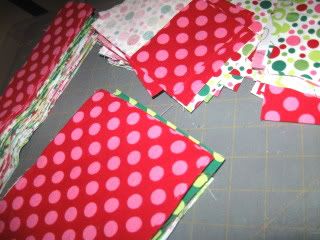 Wait, what? A Christmas quilt in June?
Yes, a Christmas quilt in June, but I'm actually behind, not ahead of the game.
I bought some Michael Miller Christmas fabric from a coop last summer. I thought the fabric was fabulous and bought a lot and than realized there was nothing I normally made that would necessitate 11 yards of Christmas fabric. Cue quilting music. So I spent an afternoon at a
friends
house looking through her quilting magazines until I found something. I had intended to make it for last Christmas, but it didn't get done in time (obviously) so I finally started on it last week. I got all the blocks pieced together and I laid them out and I'm just not happy with it. It's hard to look at and something is off. I've decided that the border fabric isn't right so I've sent off for some more evergreen ta dot in hopes that a darker border fabric will make the difference. Stay tuned for the finished results.