One of the biggest reason's for my absence from blogging these past few weeks (besides spending four days reading all four Twilight books while ignoring all manner of household chore, barely meeting the basic needs of the kids and eschewing sleep) was that we half finish our basement. It's still in it's raw stages and is certainly the least saucy room in the house, but it's serving it's purpose until I can do more.
My dad, who is the king of all trades and home improvement projects, came down to help me. I prepped the basement by reorganizing the bad side (what we affectionately call the side where the workshop and washer and dryer are) and moving all the good side furniture over, painting the walls and buying the supplies.
Once he was here we hung the drop ceiling, which I had never done before, but I proved to be somewhat useful. We had to make a million runs to the store and work around the kids, but we ended up turning this:
okay, i'm going to have to search for old pictures, but trust me, it was ugly
into this: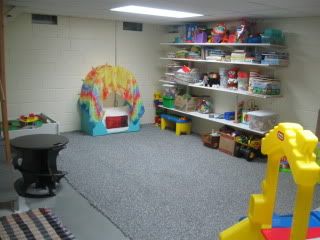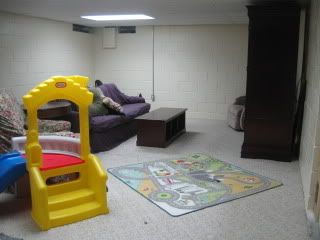 I have grand plans to use some Joel Dewberry Ginseng home decor weight fabric to recover the couch and chairs, plus there are curtains to make for the windows, art to hang and pretty baskets to buy for the shelves, but overall, I'm feeling pretty
crafty
handy!