We didn't celebrate Easter last year, but this year my husband decided he wanted to so I left him in charge of it. It turns out what he really wanted was Easter candy (which I'm pretty sure you can buy without having to celebrate the holiday) and he had no real desire to do any of the traditional things. After limping along in his planning for a week I took over the things that I enjoyed about the holiday, which included dying eggs.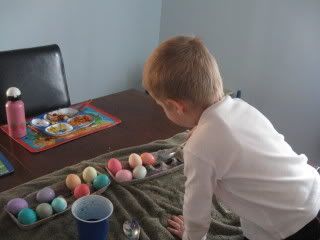 Earlier last week I had caught a glimpse of Martha Stewart's
36 Easter Eggs
and decided to try a few techniques out. Just like everything Martha does, they ended up being harder than they looked.
First we tried out the
lace eggs.
Martha's turned out crisp and beautiful. My first two attempts were barely visible, but my third attempt turned out much better.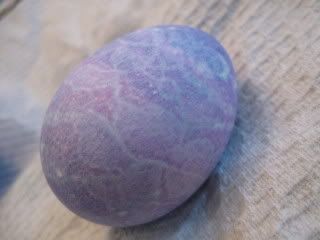 Not as crisp as hers, but still nice. We also tried
the botanical eggs
, but instead of leaves, I made some cutouts of Mater and Lightning McQueen as those were much better suited to the egg audience in this house.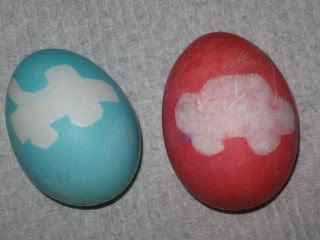 Our last try was the
marbleized swirls
, but they turned out nothing like hers so I overdyed them with teal since that seemed to cover all manner of sin. All in all, we ended up with a lovely bunch of eggs that looked darling on the dinner table.