At the beginning of last summer I picked up
Simplicity 4177
intending to make myself shirts for summer. With a newborn and a spirited toddler I never got around to it (imagine that). However, this year, with all the ease (HA!) of having a 1 year old and a 3 year old I found time.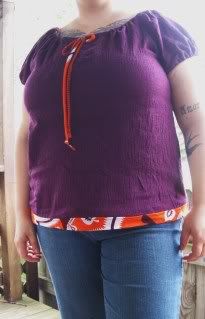 This pattern was so easy. I used a lightweight gauze and I think it'll be perfect for hot weather. I thought it would be see through, but I'm pleasantly surprised with the sheerness. Not a peep show, but just enough to be a little sexy (well as sexy as you can be in a peasant style blouse). Once it was mostly assembled I discovered that it was a tad too short for my taste so I searched through my stash in hopes of finding something to add as a trim. I finally settled on a lightweight woven that my sister brought back from Tanzania. Inspired, I made my own bias tape for the neckline and used it for the ties as well.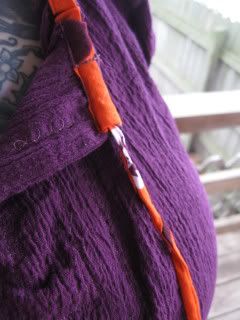 I imagine that by the end of the summer people will be tired of seeing me in this shirt because I pretty much intend to live in it.